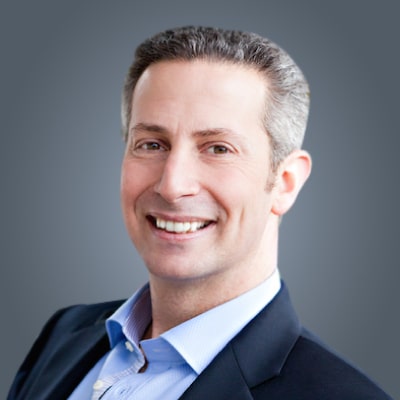 Title: Founder & Publisher
Company: DNAcademy
Website: www.dnacademy.com
Twitter: /michaelcyger
LinkedIn: /cyger
---
Fast Facts
Location: Bainbridge Island, WA
Time spent in the domain industry: Since 2010
Favourite extension: .com
Domain you wish you owned: Internet.com — it's changed our lives
Now reading: Blitzscaling by Reid Hoffman
Your mentor: Everyone that's ever come on a DomainSherpa show
Q&A
Describe your company. How long have you been there, and what led you to this career choice?
I founded DNAcademy in 2016 after conducting hundreds of interviews on DomainSherpa. I wanted there to be a methodology, process, proven toolset and consistent language to value, buy, sell and manage domain names so entrepreneurs, investors and webmasters could remove most of the trial and error and wasted resources, and short-circuit the time it takes to become educated about domain names.
NamesCon is all about business networking. Can you tell us a story about the success of a meeting at NamesCon?
I love attending NamesCon because it is the one event that everyone in the industry goes to every year. I am so happy to see friends, both old and new, to share a drink/meal with people who have known me for years through DomainSherpa but whom I've never met, to hear their story. It motivates and drives me to produce better content that helps more people.
How does your career compare to what you envisioned in your youth?
As a youth I enjoyed taking things apart to see how they worked, and then putting them back together (most of the time). Old radios, my Mattel handheld football game, telephones — I was literally quite shocked to learn that there was current running through telephone lines. I never imagined that I'd be trying to test, take apart, put back together and then explain to others how I did it and the pros/cons of it in the domain name industry. But I really enjoy meeting people from all over the world, educating those who are interested in learning, and the feeling of personal satisfaction by knowing I explained a topic so well that anyone, regardless of geography or language, can understand and benefit from it.
How would you describe what you do in a single sentence to a stranger?
I own a media company that empowers people — through education — to be more intelligent, efficient and effective.
Latest and greatest accomplishment in your career?
I recently partnered with an awesome startup to help them acquire a killer domain name. I think they're going to change the world. And I'm so honoured and excited to be a small part of their journey to success.
What are your thoughts on the new TLDs?
Most serve a purpose and have their place, just like every gTLD, ccTLD and sTLD. And just like every TLD, some second level domains value and others are worthless.
What kinds of changes to you foresee in this industry or within the industry in the next year? The next 5 years?
I think the pendulum will swing back to companies taking full responsibility for their relationships with customers, rather than relying on social media platforms (like Facebook and Twitter), public blogs (like Medium), and third-party shopping websites (like Amazon). Companies are now realizing that once they allow a platform to insert themselves between the company and their customers, they can assert their power to limit access/communications to customers, influence pricing, or pick who wins or loses based on factors out of your control like partnerships.
Who would you like to hear speak at NamesCon? Why?
Speakers that can talk about how to identify and influence top-level executives who don't value premium domain names.
What are you most looking forward to at the upcoming NamesCon?
Sharing a meal with friends old and new.
What fact about you would surprise people?
Every year I pick a new year's resolution. In 2018, I decided to learn to walk on my hands. I had to hire a personal trainer to build strength in my shoulders and core, but I accomplished it in 5 months. Ask me what my resolution for 2019 is at NamesCon.
What was one of your biggest "Aha!" moments in life?
Candy and extra iPad time motivates kids.
Who has been the biggest influence on your life, and what did they teach you?
My wife. We celebrated 21 years of marriage recently. She makes me a better person every day.
What are you proudest of in your life?
My three children.
Name 3 things you can't travel without.
iPhone, MacBook and a book in print.
What object would you put in a time capsule that best represents who you are today?
1) A picture of my extended family. 2) The first computer I ever owned, an Atari 400 (with the membrane keyboard) and tape drive for storage. 3) A link to my Wikipedia page (hopefully I'll do something one day to deserve one!)
Where is your favourite place to escape?
Maui
---
Attending NamesCon Global 2019? We want to give conference attendees the opportunity to learn more about you before the show! Fill out the Featured Attendee Profile form here.